JOMPS & JOMMS
KIC's integrated mission planner, moving map and report generator developed specifically for the Open Skies arena is now available to all treaty operators.
Our Joint Open Skies Mission Planning System (JOMPS) and Moving Map & Report Generator System (JOMMS) provide a tailored, consistent and easy to use operational environment designed specifically to support the Treaty on Open Skies and the needs of treaty operators in pre mission, mission and post mission activities.
JOMPS and JOMMS are already in operational use with the United Kingdom Joint Arms Control Implementation Group (JACIG), the Verification Centre of the German Armed Forces (ZVBw) and the Swedish Armed Forces.
Operational Benefits
Requires commercially available off-the-shelf laptop and GPS equipment with no dependency on expensive custom hardware.
Portable solution requiring no connection to the aircraft.
Consistent easy to use operator interfaces to reduce operator pressure and training requirements.
Support for multiple commercial and free map data sources to provide for different aspects of any operation.
Advanced simulation and presentation of planned mission for chair fly rehearsal and use as a training aid.
Easily modifiable aircraft characteristics to ensure accurate and flyable resulting planned flight paths.
Import and export facilities for route segment, POI and sensor on/off locations supporting Microsoft Word®, Excel® and GPX formats for maximum interoperability with external systems and other treaty nations.
Rapid creation of OSF14 and OSF15 treaty documentation from customisable templates to minimise the need for software updates on every format change.
Clear situational, progress and camera status information to provide observing parties with an easy to interpret mission following viewer.
OSF14 Mission Report production within minutes of the final camera operation to ease time pressures for report completion.
Post mission visualisation of recorded aircraft track and sensor observation periods to assist with dispute resolution.
Continued development and enhancement for the ever changing needs of Open Skies operators, treaty formats and emerging data sources.
Product and technical support from KIC with over 12 years experience in the Open Skies arena, ensuring operational delivery.
Pre Mission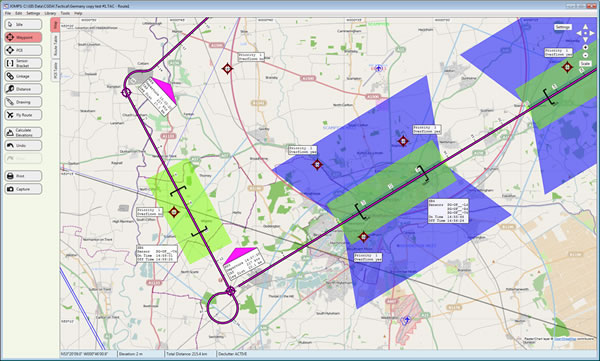 Planning
Customisable Aircraft and Sensor library for accurate segment planning, sensor swath modelling and achievable flight paths.
Instant sensor ground swath coverage modelling.
Support of multiple approaches to segment planning to capture POI locations, sensor on/off locations, simple waypoint legs or combination of all.
Support of treaty 'free distance' loop turn actions and off-track deviation monitoring.
Support for multiple sensor operations per leg and multiple sensors types per operation.
Reporting of sensor swath coverage of POI locations.
Import and export of POI, sensor on/off locations and route segments from multiple sources including Microsoft Excel® spread sheets and GPS eXchange format (GPX) files.
Import and subsequent visualisation of any previously created OSCC OSF14 RTF format report file.
Support of numerous commercial and free to use map data sources for map backdrop, aeronautical, culture, obstruction and terrain overlays.
Large clear map display with full scale, pan, zoom, drag and de-clutter capability.
Rehearsal
Simulated mission rehearsal in real-time with forward/rewind, pause, play, speed-up and stop operator controls.
Frame-by-frame simulated sensor ground swath projection using aircraft location AGL height.
Documentation
Generate OSF15 format Microsoft Excel® spread sheet from customisable template.
Capture and print high quality maps and tabular data.
Flight Preparation
Comprehensive Sensor operations summary to aid with film length requirements.
Export route, POI and sensor on/off locations to GPS device.
Support for Garmin RS232 Serial, USB and GPX generation devices.
Support for generic wired and wireless (bluetooth) GPS devices.
Additional device support as required.
Mission Execution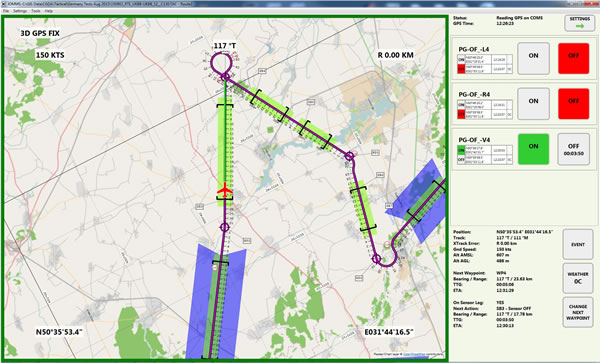 Situational Awareness
Large clear aircraft centred moving map oriented north or track-up.
Multiple map scale options.
Comprehensive map de-clutter support.
Continuous display of time, position, track, cross-track error, ground speed and AMSL altitude.
Map display and operator controls consistent with mission planner.
Clear prominent colour coded display of current GPS fix status.
Compatible with GPS devices supporting NMEA 183 v2.0 and above.
Flight Progress & Sensor Prompting
Continuous display of next waypoint bearing, range, time-to-go and ETA.
Continuous display of next sensor on/off action. bearing, range, time-to-go and ETA.
Clear and timely sensor on/off action prompting with time-to-go display.
Sensor Status & Control
Clear prominent display of current (multiple) sensor on/off state.
Large format operator controls.
Continuous display of last sensor on/off action position, time and weather.
Event Recording
Recording of sensor on/off actions and manual observational events.
Automatic recording of minimum and maximum AGL height for each sensor active observation period.
Optional automatic recording of GPS fix changes, crossing of cross-track error threshold and aircraft position.
Fall-over Recovery
Automatic recovery to last known good status in the event of a hardware or software fall-over to ensure continuity of operation.
Post Mission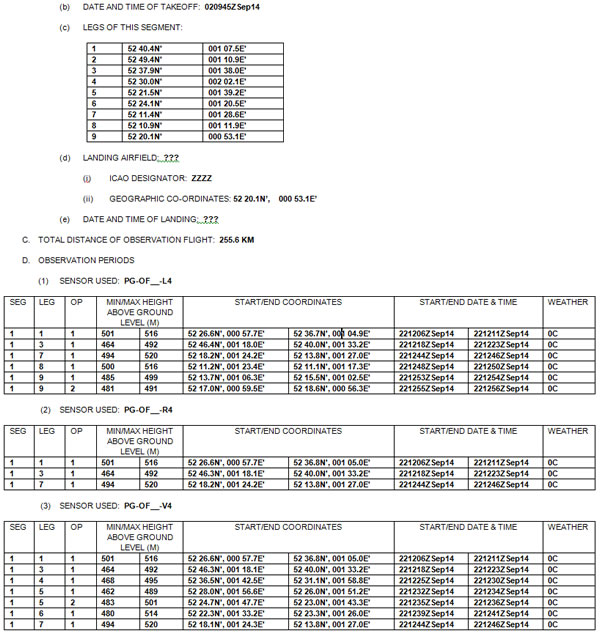 Report Creation
Generate OSF14 format Mission Report Microsoft Word® document from customisable template using recorded mission events and previously produced OSF15 format Microsoft Excel® files.
Full support for multiple segments and associated sensor observation periods with multiple sensor types..
Operator options for metric or imperial AGL heights and total distance values.
Debrief
Visualise recorded aircraft track and sensor on/off locations.
Visualise positions of all recorded converging and diverging cross-track threshold crossing events.
Visualise positions of all recorded GPS fix changes for 2D, 3D and no fix states.

Capture and print high quality maps of recorded mission.



Dispute Resolution
Compare recorded mission with planned mission.
Overlay recorded aircraft track and sensor on/off locations to visualise deviations from plan.
Clarify cross-track deviations using distance measure tool.
Please contact us for more information, a product brochure or to discuss prices and licensing options.